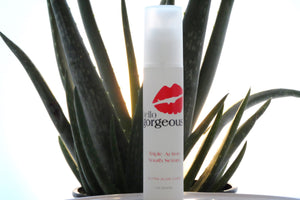 TRIPLE ACTION = SLOUGHING, PLUMPING, AND REBUILDING
This fabulous serum contains Glycolic acid, Lactic acid, and Hyaluronic Acid (HA) in our 200% Aloe Vera base.  Adding stimulating botanical: ginseng, arnica, and rosemary  make this "Youth In A Jar."

Alpha Hydroxy Acids, glycolic and lactic, work to dissolve the cable-like linkage that hold dead skin cells together. Dead skin build-up causes rough, uneven skin with clogged and enlarged pours.  Dead skin build-up prevents much needed nutrition and moisture from penetrating into the dermis.  Dead skin build-up causes premature wrinkling and sagging. 
Alpha Hydroxy Acids resurface skin's surface to reveal younger, smoother skin.  Once you remove surface dead skin, the dermis is stimulated into making new skin cells to push up to the epidermis.  Revealing fresh skin and making new skin is one of the key elements into maintaining youthful, healthy skin.

Alpha Hydroxy Acids are also known to brighten dull skin, even hyper-pigmentation, reduce fine lines, smooth uneven skin texture, and lighten age spots. Reversal of many age related skin problems helps skin look fresh and youthful again.
           EXFOLIATION ENCOURAGES COLLAGEN RENEWAL IN THE DERMIS
Aloe Vera also promotes collagen production up to 8 times faster than normal replication.  Along with over 200 vitamins, minerals, enzymes and other active agents, Aloe Vera alone is a fabulous anti-aging active.  Hello Gorgeous is famous for making skin care products with aloe instead of water, so our clients see results sooner rather than never!!!! 

                This is an advanced Alpha Hydroxy acid formula, not for beginners.
Primary Benefits: To exfoliate surface dead skin revealing smoother skin and to promote new cellular regeneration.
Primary Ingredients:  Aloe Barbadensis Leaf Extract, Organic Aloe Barbadensis Leaf Juice, Glycolic Acid, Lactic Acid, Hyaluronic Acid and Grandis (Grapefruit) Fruit Extract.
Skin Types:  Normal, Dry, Oily, Aging but not sensitive skin.
When To Use:  Great to use overnight after cleansing, toning, and applying Alpha Lipoic A&E Oil around the eyes.  For a quick resurface:  apply Alpha Lipoic A&E Oil around the eye area, then apply a double coat of Triple Action Youth Serum around the face and leave on 30 minutes.  Finally apply Honey Jojoba Scrub and use circular movements with  a warm washcloth to evenly exfoliate all around the face.  Follow with one of misting toners and moisturizer.

Ingredients:  Aloe Barbadensis Leaf Extract, Organic Aloe Barbadensis Leaf Juice, Glycolic Acid, Lactic Acid, Hyaluronic Acid, Citrus Grandis (Grapefruit) Fruit Extract, Citrus Grandis (Grapefruit) Seed Extract, Panax Ginseng Root Extract, Arnica Montana Flower Extract, Rosmarinus Offinalis (Rosemary) Leaf Extract, Ascorbic Acid, Chrondus Crispus (Carrageenan), Sodium Hydroxymethylglycinate.

Packaging:  1.7 oz bottle