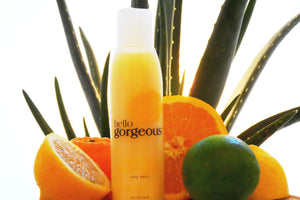 Sugar Citrus Cleansing Wash
Plant Sugars and Coconut Cleansers combine with our famous Aloe Vera Base to produce a gentle, but powerful cleanser for the oily face.  Our SULFATE-FREE CLEANSER washes away oil, bacteria, and makeup to leave a soft, squeaky-clean feel.
PRIMARY BENEFITS:  To provide effective anti-bacterial cleansing for oily, sensitive skin and oily, problem skin.
PRIMARY INGREDIENTS:  Aloe Vera, Decyl Glucoside (plant sugar), Cocamidopropyl Betaine (coconut oil), Botanicals (see Features), Vitamin E (protects collagen destruction), Allantoin (obtained from Comfrey, stimulates healing, soothing), and Panthenol (Vitamin B-Complex Factor).
FEATURES:   Specially selected botanicals like Sage (anti-septic, astringent, calmitive), Golden Seal (anti-septic), Hypericum (purifier, asteingent, soothing agent), Balm Mint (anti-septic, stimulant), and Dutch Rush (anti-septic) are featured to kill bacteria in pores, control oil production, andtighten pores.  Grapefruit Seed Extract is also included because it is a natural antibiotic which fights bacterial, fungal, and viral infections which plagues oily skin. 
SKIN TYPES:  Formulated for oily, problem skin and oily, sensitive skin.
WHEN TO USE:  Use nightly to cleanse makeup and soil from daily activities.
DIRECTIONS:  Place a nickel-sized amount onto a wet washcloth and using circular strokes clean face starting from the center out to the hairline.  Keep eyes closed while removing eye makeup with patting technique.  Rinse with a warm, wet washcloth.
INGREDIENTS:  Other Indgredients include Xanthum Gum, Glycol Stearate (natural fatty acid), Citric Acid, Annatto (natural color).
PACKAGING:  4 oz. bottle with convenient pump.