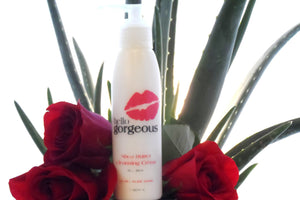 SHEA BUTTER CLEANSING CREAM
SHEA AND COCOA BUTTERS
These two creamy emollients make great non-greasy cleansers for dry skin because the are high in Linoleic Acid (EFA) and Tocopherols (Vitamin E).  We've also added Jojoba Seed Oil to prevent surface dryness after cleansing because it is chemically similar to human sebum.  It's been used by the Sonoran Indians of Arizona for moisturizing for centuries.  Finally, Evening Primrose Oil, another emollient that has a high content of the anti-aging Gamma Linolenic Acid (EFA) leaves the soft and smooth.
SULFATE FREE
HGC cleansers contain no SLS (Sodium Laurel Sulfate) or any other toxic cleansing chemicals.  This assures you of a fresh clean feel without harmful chemical residue which accelerates the aging process.
PRIMARY BENEFITS:  To provide safe and effective cleansing of makeup and daily soil without dryness.

PRIMARY INGREDIENTS:  Aloe Vera, Jojoba Seed Oil, Coconut Fatty Esters (Ceytl and Stearyl), Botanicals, Shea and Cocoa Butter.

SKIN TYPES:  Formulated for Dry Skin.

FEATURES:  Shea and Cocoa Emollients.  Extracts of Geranium, Cucumber, Rosa Canina, Horse Chestnut, & Ginseng for added anti-inflammatory and softening effects.

WHEN TO USE:  Use nightlly to cleanse makeup and soil from daily acitivites.

DIRECTIONS:  Place a nickel-sized amount onto a wet washcloth and using strokes clean face fromthe center out to the hairline.  You may also simply place in palm of hands and rub together (with a little splash of water) and use hands to wash face.  Always remember to use circular strokes especially around eye area.  Pat that area with washcloth to rinse.

INGREDIENTS:  Other ingredients include Vitamin E, Panthenol, Xanthan Gum, Cabbage Rose Water, Rosa Centifolia (Rose) Oil, and Cyanocobalamin (Vitamin B12 for color.)
Im thankful for the shea buter cleansing cream. It is a great cleanser and also gentle on my skin.
I have used this cleanser for years and it is one that won't give me a rash or cause me to breakout. I love it!