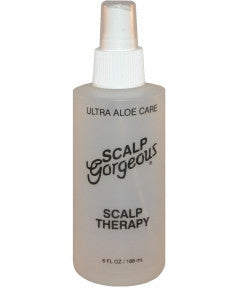 SCALP THERAPY
This highlly potent sca;p formula has been formulated to penetrate deeply to unclog the hair shaft and nourish the hair bulb. 
Natures Best In A Bottle 
It just doesn't get any better than this.  Starting with our Aloe Vera base we've added Wheat Amino Acids, Panthenol, Biotin, Niacinamide, Horsetail Extract (phyto Collagen), Niacin, Superoxide Dismutase (SOD), Selenium, Vitamins A, B6, C, E, and extracts of Papya, Coltsfoot, Rosemary, Sage, Nettle and Balsam.
When To Use
Apply after shampooing to clean scalp.  Spray to desired areas.  Massage vigorously until completely absorbed then style.  For best results use twice daily.  Avoid contact with face and eyes.