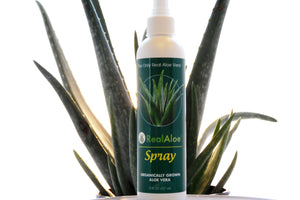 ALOE VERA SPRAY
A cool, soothing multi-purpose spray with 95% Aloe Vera juice.  Aids in the relief of dry and scaly skin.
An effective agent in alleviating the distress of Poison Oak, Poison Ivy, insect bites, sunburn, and chapped
lips and skin.
100% Vegetarian Ingredients  -  No Animal By-Products  -  Gluten Free  -  No Animal Testing
Certified Organic  -  Non GMO Certified
Ingredients:  Water, Aloe Barbadensis Leaf Juice, Citric Acid.