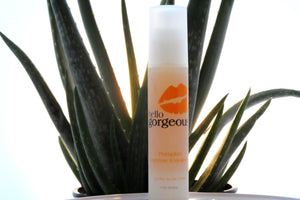 ENZYMES GENTLY EXFOLIATE TO REVEAL YOUNGER LOOKING SKIN
                                              PUMPKIN - PINEAPPLE - PAPAYA
Pumpkin Enzyme Exfoliator makes an excellent exfoliator because it dissolves dead skin cells without harming live tissue.  Removing dead surface debris enables nutrients to penetrate faster and deeper.  This serum is also packed with multi-purpose ingredients to maintain younger than normal looking skin!!

Lactobacillus Pumpkin Ferment is a proteolytic enzyme that breaks down protein on the surface to reveal smoother, younger looking skin!  It also is a strong anti-oxidant that prevents free radical damage that causes pre-mature aging.  But wait there's more:  this superb pumpkin enzyme provides antibacterial, antiviral, and anti-inflammatory benefits.

Hyaluronic Acid, also known as HA, is the super humectant that attracts 1000 times its weight in moisture.  HA keeps cells plump and flexible to help prevent the damage that results in wrinkles!!!
Sea Algae Blend provides more moisturizing polysaccharides that neutralize AGE's which damage cellular renewal.  Red algae preserves the matrix integrity by activating the formation collagen and fibrillin network.  What this means to you:  it allows skin to keep its elasticity so you look younger!

Primary Benefits:  Gentle exfoliation, hydration, and skin renewal.

Primary Ingredients:  Organic Aloe Barbadensis Leaf Juice, Lactobacillus Pumpkin Ferment Extract, Hyaluronic Acid, Papain, Red Sea Algae.

Skin Types:  This luxurious serum is great for all skin types, especially aging and sensitive skin.
When To Use:  Use under night creams or double coat for a light enzyme peel. 

Directions:  Spread evenly over entire face and neck.  Works great under night creams while you sleep.  When you need a fresh look and smoother skin, double coat and leave on for thirty minutes for a quick enzyme peel.

Ingredients:  Aloe Barbadensis Leaf Extract, Organic Aloe Barbadensis Leaf Juice, Hypnea Musciformis Extract, Hyaluronic Acid, Papain, Gilidelia Acerosa Extract, Sargassum Filipendula Extract, Lactobacillus Pumpkin Ferment Extract, Saccharum Officinarum (Sugarcane) Extract, Citrus Medica Limonum (Lemon) Extract, Pyrus Malus (Apple) Fruit Extract, Camelia Sinensis (Green Tea) Extract, Canica (Papaya) Fruit Extract, Ananas Sativus (Pineapple) Fruit Extract, Citrus Grandis (Grapefruit) Seed Extract, Ascophylium Nodosum (Algae) Extract, Retinyl Palmitate, Tocopheryl Acetate, Sorbitol, Chondrus Chrispus, Xanthum Gum, Phospholipids, Sodium Hydroxymethylglycinate.

Packaging:  1.7 oz. Bottle