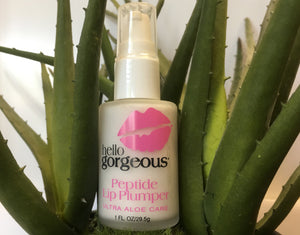 GIVE ME A LITTLE LIP, PLEASE
Unfortunately as we age our lips begin to shrink and shrivel (one of my greatest fears). This age defying serum will be your favorite weapon in the war on aging. Lips are constantly exposed to environmental stress, UV radiation, and temperature changes. Add to that, the internal effects of aging which includes cellular dehydration and restricted capillary function, and you have shrinking, shriveling, wrinkling lips occurring right before your eyes!
                                            PLUMPING PEPTIDES !!!!!!!!!!
I discovered a French cosmetic team that discovered Palmitoyl Oligopeptide, a Peptide that stimulates Collagen and Glycosaminoglycan synthesis.  Basically it moisturizes lips (60% hydration) and makes them firmer, smoother, and more defined (-29% reduction in surface folds). Studies also show a 40% increase in lip volume. Now that's what I'm talking about. At a girlfriend reunion, they asked if I had had something done!

TWO MORE!  Portulaca Pilosa Extract combined with Palmitoyl Tripeptide 38 mimic hyaluronic injections by doubling its synthesis level and strongly stimulates the synthesis of matrix and dermal epidermal junctions molecules.  What?  This means clinical studies showed a 101% increase in HA, the humectant that holds 1000 times its weight in moisture inside your cells!  It also improved lip volumn from 15% to 82% in test subjects.  WOW!
 I've also added fatty esters like Coconut Oil, Stearic Acid, Shea Butter, and Cocoa Butter for extra moisturization.  For even more plumping:  Soluble Collagen and Hyaluronic are also added toour fabulous Peptide Lip Plumper. You will love the peppermint tingle as you feel it work.  YOU WILL LOVE THIS LIP CREAM!

PRIMARY BENEFITS: To plump and rehydrate lips and surrounding skin tissue. Additionally smoothes verticle lip wrinkles.

PRIMARY INGREDIENTS: Marine Peptides, Bladderwrack and Kelp Extracts, Cocoa & Shea Butters, Grape Seed Extract, Hyaluronic Acid, & Sodium PCA.

FEATURES: Send in the Marines to the rescue and let this unique Marine Complex revive your lips.

SKIN TYPES: All skin types benefit from this great serum.

WHEN TO USE: Use every AM & PM after cleansing and toning. Can be uses throughout the day to revive before lipstick.

DIRECTIONS: Place one droplet directly onto naked lips and smooth in using circular strokes around the lips.

INGREDIENTS INCLUDE: Organic Barbadensis Leaf Juice, Aloe Barbadensis Leaf Extract, Cocos Nucifera (Coconut) Oil, Glycerine, Stearic Acid Glyceryl Stearate, Ceytl Alcohol (coconut derived emulsifier), Grape Seed Extract, Sodium Hyaluronic (HA), Palmitoyl Tripeptide-1, Palmitoyl Tripeptide-38, Allantoin, Sodium PCA, Cetearyl Ethylhexanoate, Hydrolyzed Glycosaminoglycans, Soluble Collagen, Ethylhexyl Palmitate, Tribehenin, Sorbitan Isostearate, Butylene Glycol, Sucrose Cocoate, Cantella Asiatica Extract, Echinacea Purpurea Extract, Portulaca Pilosa Extract, Symphytum Officinate (Comfrey), Rhizome Root Extract, Chamomile Flower Extract, Panax Ginseng Root Extract, Kelp Extract, Bladderwrack Extract, Shea Butter, Cocoa Seed Butter,  Mentha Piperita (Peppermint) Oil, Tocophenol, Phenoxyethanol, Ethylhexlglycerin.

PACKAGING: 1 0z Bottle.