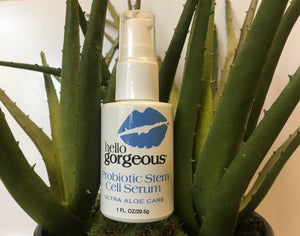 Stem cells combined with probiotics, aloe vera, and pro-vitamins regenate new  skin cells to improve collagen and elastin content in aging skin.  
STEM CELLS AND PROBIOTICS PRODUCE AND PROTECT NEW SKIN
LACTOCOCCUS FERMENT LLYSATE acts on essential features in the aging process of the skin:  its ability to both renew itself and to act as a biosensor helping it adapt to external stresses quickly and effectively.  It positively influences both the speed and the quality of epidermal growth.  The production of essential proteins and enzymes in the skin quality is clearly increased, barrier function and cell cohesion are improved, and skin renewal accelerated.
ARGAN STEM CELL THERAPY regenerates new skin tissue.  ARGAN TREES belong to the oldest known tree species in the world which were around when dinosaurs roamed the earth.  Located only in southwestern Morocco, they live to be 200 years old.  They are resistant to death by going dormant during droughts and high temperatures until humidity levels rise when they spring back to life.  Scientists have learned how to delay the depletion of human dermal stem cells by using Argan plant stem cells!  Argan stem cells vitalize human dermal stem cells responsible for collagen and elastin production.
SWISS APPLE STEM CELL THERAPY was discovered by these same chemists.  Historically famous back to the 18th century, the Uttwiler Spatlauder apple had the ability for an extremely long shelf life, not rotting or shriveling.  Since the apples were rich in phytonutrients, proteins, and long-living cells, scientists began to research its stem cells on human stem cells.  Test results were amazing:  100% of the test subjects showed a significant improvement and visible decrease in wrinkle depth.  In vitro, tests showed a delay in cellular death, DNA repair, and protection from oxidative stress.   
WHAT THIS MEANS FOR YOU!
1. Protection for the longevity of skin stem cells
2. Delaying senescence (death) of essential cells
3. Acceleration of the skins natural repair process
4. Combats chronological aging
5. Preserving the youthful look and vitality of skin
PROBIOTIC STEM CELL SERUM WILL HELP YOU WIN THE WAR ON AGING!
OTHER PRIMARY INGREDIENTS:  Sodium Hyaluronate, the humectant that attracts 1000 times its weight in moisture for cellular suppleness.  Panthenol, Vitamin B5, hydrates and smoothes.  Phospholipids, fatty acids in cellar membranes which maintain structural integrity.  Tetrahexyldecyl Ascorbate, Vitamin C derivative, which boosts collagen and brightens skin.
SKIN TYPES:  This fabulous serum works great on all skin types.  Also great for troubled skin with psoriasis or eczema. 
WHEN TO USE:  Use this serum day or night under AM or PM moisturizers.  Serums are formulated to deliver extra nutrients and may be layered with other serums under creams or lotions.
DIRECTIONS:  Squirt small amount into palm of hand and place strategically around the face.  Gently blend into skin with circular strokes. 
INGREDIENTS:  Organic Aloe Barbadensis Leaf Juice, Aloe Barbadensis Leaf Extract, Glycerin, Polysorbate 20, Lactococcus Ferment Lactate, Sodium Hyaluronate, Panthenol, Isomalt, Phospholipids, Sodium Benzoate, Whey Protein, Argania Spinosa Sprout Cell Culture Extract, Malus Domestica Fruit Cell Culture Extract, Tocopherol, Tetrahexlydecyl  Ascorbate, Lecithin, Xanthan Gum, Phenoxyethanol, Ethylhexlglycerine.
PACKAGING:  1oz glass bottle
Makes a difference!
I have been using this product for over a year and it has helped smooth out my skin and dramatically reduce wrinkle lines! This is better results than I have gotten from other products!
A must have
Been using this for two years and what a difference it makes. Apply at night and in the morning, my skin is noticeably softer, smoother and fresh looking. It definitely works on my sensitive skin.