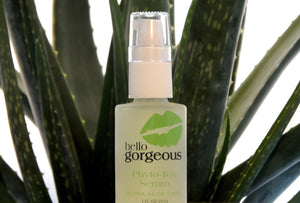 BOTOX  INJECTIONS   Botulism injections or PHYTO-TOX SERUM  Amino Acids that inhibit cellular messaging to relax surface tension.  
PEPTIDE COMPLEX:  A few years ago I ran across an aritcle in The International Jounal of Cosmetic Science written about a few French Chemists that had discovered certain peptides that inhibit cellular messaging.  Peptides are molecules that have been formed from smaller protein molecules (amino acids) by binding one amino acid to another forming a shorter collagen chain that is more penetrable into the skin.  Peptides are known for turning on fibroblasts responsible for triggering the healing and rebuilding of the dermis.  They are the keys to the biochemical pathways.   HGC uses peptides for encouraging new collagen production and now with these isolated peptides we can restrict surface tension which reduces wrinkle depth.  A great one-two punch in the war on aging.
Along with Argireline, I found an extract from Africa and South America known as Acmella Oleracea (Gatuline Expression).  With these two great actives, clinical studies showed 27% reduction of eye wrinkles in 30 days.  After only one day 75% noticed a smoothing effect and rapid results without injections.
ALOE VERA AND HYALURONIC ACID are super humectants that rehydrate and plump wrinkled, dehydrated skin.  You see, dehydration causes soluble (flexible) collagen to turn insoluble (rigid).  This is probably the number one cause of wrinkles. HA and Aloe Vera come to the rescue to plump and smooth.  PhytoTox also contains Green Tea and Vitamins A, E, and C.
     BOTOX=POISON    OR    PHYTO-TOX=NOT POISON:    A SAFE, EFFECTIVE WRINKLE REDUCER!!!
PRIMARY BENEFITS:  To reduce surface tension from facial expressions.  To regenerate dermal protein and rehydrate dehydrated skin
FEATURES:  Peptide Complexes and Phyto (plant) Blends that produce amazing anti-aging results.
PRIMARY INGREDIENTS:  Aloe Vera, Peptides, Hyaluronic Acid, Green Tea Leaf Extract, Hydrolized Wheat Protein.
SKIN TYPES:  This serum works for all skin types.
WHEN TO USE:  Should be used every morning and before special events.
DIRECTIONS:  Exfoliate for better penetration and pH balance with one of our appropriate toning mists.  Place a droplet on ring finger and pat around eyes.  Use another droplet between eyes and across forehead.  Also works around mouth and cheeks.
INGREDIENTS INCLUDE:  Organic Aloe Barbadensis Leaf Juice,  Aloe Barbadensis Leaf Extract, Acetyl Hexapeptide-8, Glycerin, Hyaluronic Acid, Glycosaminoglycans, Hydrolyzed Wheat Protein, Acmelia Oleracea Extract, Green Tea Leaf Extract, Ginseng Root Extract, Cucumber Fruit Extract, Echinacea Extract, Calendula Flower Extract, Vitamins A, E, & C, Sodium Hydroxymethylglycinate, Allantoin, Panthenol, Carrageenan, Xanthan Gum, Chlorophyll, Citric Acid.
PACKAGING:  1 OZ.  BOTTLE                        
Wrinkles Goodbye!
This stuff is amazing! I love all of Hello Gorgeous skin care! I have very sensitive skin
and I can use any of these products for skin care.
I get compliments on my skin all the time.