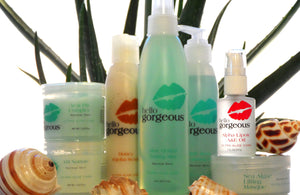 ULTRA  ALOE CARE - NORMAL SKIN CARE KIT
Each kit contains seven products:  Morning Scrub, AM and PM Creams or Gels, Toner, Cleanser, Mask, and Eye Wrinkle Solution.
TEN MINUTES A DAY KEEPS THE WRINKLES AWAY
Morning 5 Minutes:
STEP ONE: Exfoliate (Removes dead skin cells which accumulate during nightly cellular repair)
STEP TWO: Balance (pH balance the skin with non-alcoholic toner)
STEP THREE: Preserve (designed to preserve delicate eye area)
STEP FOUR: Protect (Moisturizers should be designed for each skin type to protect from dehydration and sun damage)
Evening 5 Minutes:
STEP ONE: Cleanse (Everyone has different needs when it comes to cleansing)
STEP TWO: Balance (It's time to pH balance again with minerals and no alcohol.
STEP THREE: Preserve (Time to take care of those wrinkles around the eyes again)
STEP FOUR: Nourish (Antioxidants will aid cellular repair and regeneration during the sleeping period. That's why you need your beauty sleep)
Weekly Mask
Mask twice weekly and just before special occasions. (Designed to tighten pores, lift out lines and smooth skin's surface)
I really love the way it makes my skin looks and feels. I definitely will reorder the same products. I'm 70 yrs old and no one believes me.