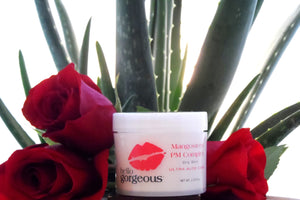 Mangosteen PM Complex is now Rose Stem Cell PM Cream

                                      AGE-REVERSING STEM CELLS
                   +++++Inspired by nature - Realized by science+++++
In laboratory tests, Alpine Rose Stem Cell Extract (Rhodadendrum Ferrugineum Leaf Cell Culture Extract) showed visible anti-aging effects in only 16 days!  As we age the skin's ability to regenerate becomes sluggish.  Now, plant stem cells, provide the energy to activate our own aging skin cells!  Tests results prove:
                                      *Increases skin stem cell vitality
                                      *Boosts epidermal regeneration
                                      *Improves the skin barrier function
                                      *Helps the skin to cope with climate changes

                                   AGE REVERSING ANTI-OXIDANTS
VITAMIN C is essential for collagen formation which keeps skin from sagging and wrinkling!  So, yes you should take Vitamin C supplements to work from the inside out, and on the skin's surface to protect from UV and free radical damage, repair damaged skin cells, diminish fine lines and wrinkles through collagen stimulation, and inhibit age spots. Tetrahexyldecyl Ascorbate, an oil soluble Vitamin C, in our new Rose Stem Cell PM Cream does all that!!!!!!!!

                                        AGE-REVERSING HYDRATION
As we age, lipid or oil production slows and for those with dry skin the advanced dryness is clearly evidenced when surface fine lines form deeper fissures ie: wrinkles.  This fabulous cream contains Squalane which naturally occurs in human skin and sebum to re-nourish dehydrated skin.  Evening Primrose Oil and Coconut  Oil Esters provide more lipid hydration to keep skin supple and smooth.  Plant humectants found in Aloe Vera and Glycerin provide cellular hydration for plumping.  We also also added the Queen of hydration, Sodium Hyaluronate also known as Hyaluronic Acid.  This incredible "water reservoir" holds up to 40,000 times its weight in water.  This "goo" that protects the cells decreases from 70% to 30% as we age, and it is imperative to restore it.
PRIMARY BENEFITS:  To restore moisture levels for optimum cellular rejuvenation and to provide anti-oxidants to aid in cellular repair and stem cells for skin cell formation and protection.

PRIMARY INGREDIENTS:  200% Aloe Vera, Squalane, Evening Primrose, Rosehip Oil, Vitamin C, Hyaluronic Acid,  and Coconut Esters.

SKIN TYPES:  Formulated for Dry and Mature Skin

FEATURES:  *Alpine Rose Stem Cells for stimulating and maintaining skin cell formation to keep skin more youthful.   *Super Anti-Oxidants of Vitamin C, Super Oxide Dismutase, Sodium PCA, Vitamin E, and Vitamin A to fight and repair oxidative damage that leads to premature aging.  *Rose Super Blend of Evening Primrose Oil, Rosehip Oil, Rosehip Extract, and Rose Flower Extract which hydrate and renew aging skin cells.  *Squalane which composes approximately 10% of the body at birth and decreases as we age. This important lipid balances electrical charges on cell membranes to provide a powerful stimulus to cellular repair and plumps for smoothness.


WHEN TO USE:  After cleansing and toning before bedtime.

DIRECTIONS:  Place small amounts of cream on forehead, chin, and cheeks and spread evenly over the entire face and neck.

INGREDIENTS:  Aloe Barbadensis Leaf Extract, Organic Aloe Barbadensis Leaf Juice, Squalane, Caprylic/Capric Triglyceride, Stearyl and Ceytl Alcohol (Fatty Esters), Glycerin, Cetearyl Alcohol (Fatty Ester), Evening Primrose Oil, Rosehip Seed Oil, Vitamin C, Hypnea Musciformis Extract, Sodium Hyaluronate, Sodium PCA, Allantoin, Sorbitol, Supper Oxide Dismutase, Rosa Canina (Rosehip) Extract, Rosa Centifolia (Rose) Flower Extract, Alpine Rose Stem Cell Extract, Gelidiella Extract, Sargassum Filipendula Extract, Rosa Centifolia Oil, Rosa Damascena Flower Oil,  Vitamin A, Vitamin E, Xanthum Gum, Vitamin B12, Sodium Hydroxymethylglycinate.

PACKAGING:  2 oz. jar