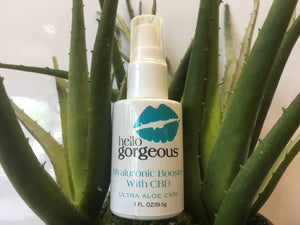 HELLO GORGEOUS HAS A NEW AGE REVERSING SOLUTION!   
SODIUM HYALURONATE AKA HYALURONIC ACID DIMINISHES WITH AGE!   Hyaluronic Acid (polysaccharide) provides continuous moisture to the skin and joints because it binds up to 1000 times its weight in water.  It is the only biological (naturally occurring) substance that can retain this amount of water. 
I combined a 100% full spectrum Hyaluronic Acid, clinically tested for penetration and results.  Here is what the tests revealed:

Reduces Wrinkle Volume
Improves Elasticity
Reduces Dehydration
Increases Smoothness
Reduces Scaliness
Protects Fibroblasts
BUT WAIT THERE'S MORE!
I also combined it with 300mg (per bottle) of LABORATORY TESTED CBD!!  Not just any CBD, but FULL SPECTRUM WATER SOLUBLE THC FREE CBD which has a faster absorption rate that is TEN TIMES the concentration of an oil-based formula.  You get more CBD anti-inflammatory and collagen stimulating benefits in less time.   
CBD reverses the signs of aging!  It is rich in Vitamins A, C, and E which blocks free radical damage that causes age spots, collagen collapse, and uneven skin texture.  Cannabinoids are chemical messengers that activate a class of cell membrane receptors located throughout the body.  These chemical messengers serve a myriad of purposes, especially anti-inflammation which is now believed to be the author of all disease and aging.  Quenching inflammatory damage is the key to slowing down cellular damage and stimulating collagen renewal.  AGING BEGINS AT THE CELLULAR LEVEL! 
CBD reduces acne problems!  Since acne is an inflammatory condition related to overworked sebaceous-gland production, acne vulgaris, CBD has shown promising results in controlling acne flare ups. 
CBD soothes skin allergies!  Rosacea, eczema, and psoriasis are all inflammatory-related skin conditions.  Anti-inflammation is the key health component of CBD and is proving very helpful in diminishing these harmful skin allergies. 
THIS AGE REVERSING SERUM WILL MAKE YOU SMILE EVERY TIME YOU LOOK IN THE MIRROR!!
PRIMARY INGREDIENTS:  Our famous double aloe vera base insures deep penetration and activates collagen production up to 8 times faster than normal.  Our proprietary Hayaluronic Acid increases dermal hydration smoothing and plumping skin surface.  Clinically tested water-soluble CBD penetrates faster than oil-based formulas bringing skin renewal results faster! WIN-WIN-WIN for the SKIN.

SKIN TYPES:  Good for all skin types.
DIRECTIONS:  Pump a quarter-sized amount into palm of hand and spread evenly over the entire face or affected area.  Use daily morning or night under AM or PM creams or lotions. 
INGREDIENTS:  Organic Aloe Barbadensis Leaf Juice, Aloe Barbadensis Leaf Extract, Glycerine, Sodium Hyaluronate, Dextrin, Organic Sativa (CBD), Lecithin, Tocopherol, Xanthan Gum, Arcacia Senegal Gum, Benzyl Alcohol, Dehydroacetic Acid (Natural Preservative).
PACKAGING:  1 oz. glass bottle
Love this stuff!
This is the serum that I have added most recently. I have been using Helen's products for decades and this one does not disappoint. It adds such hydration to my skin which I am needing at nearly 50.