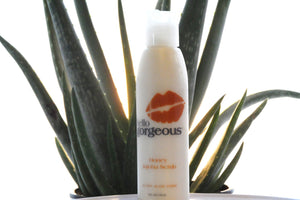 HONEY JOJOBA SCRUB FOR GENTLE DAILY EXFOLIATION
Morning exfoliation is a must for all skin.  WHY?  Dead skin cells accumulate from nightly cellular regeneration.  Yes, your skin repairs itself at night!   Your skin is the largest organ in your body.  While other organs are resting, the skin is able then to receive  vital nutrients to repair and renew.   
Daily exfoliation removes rough, patchy, uneven skin surface.    Without exfoliation this could lead to enlarged or clogged pores.  MOST SCRUBS ARE TOO HARSH FOR DAILY USE!!  Honey Jojoba Scrub contains moisturizing honey and aloe to prevent dryness!  Gentle exfoliates and smooths skin each morning!

PRIMARY BENEFITS: Daily exfoliation to unveil smooth skin.  Improves moisture penetration.  Makeup glides across skin for even coverage.

PRIMARY INGREDIENTS:  Aloe Vera, Honey, Glycerine, Kaolin, Jojoba Beads
SKIN TYPES:  Great for all skin types.  Avoid during heavy breakouts.
WHEN TO USE:  Use every morning in place of cleanser.
FEATURES:  This scrub contains moisturizing compounds and no harsh chemicals or acids to prevent dryness and dehydration.   Natural exfoliates like ultra fine walnut shell powder and jojoba beads gently exfoliate unlike many scrubs that contain plastic compounds that are too harsh on skin's surface.
DIRECTIONS:  Dot small  amounts of scrub on cheeks, forehead, and chin.  Use a warm washcloth in circular movements to scrub entire facial area.
INGREDIENTS:  Aloe Barbadensis Leaf Extract, Organic Aloe Barbadensis Leaf Juice, Honey, Glycerine, Kaolin, Titanium Dioxide, Cetyl Alcohol (Coconut Derived Emulsifier, Stearyl Alcohol (Coconut Derived Emulsifier), Jojoba Beads, Juglans Regia (Walnut) Shell, Sodium Hydroxymethylglycinate.   
PACKAGING:  4 oz Plastic Bottle

GOT TO HAVE SCRUB
This product helped me get rid of deep deep acne. In only 2 weeks! Will forever use!
Great scrub!!!
love the honey smell! My face always feels so clean and silky smooth after the scrub!