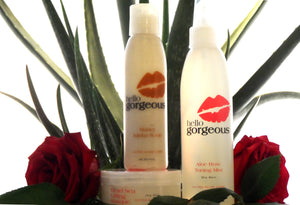 Dry Skin Exfoliation Combo
Even dry skin needs to be exfoliated or you cannot get moisture in the dermis where it is needed.  Your morning scrub
Honey Jojoba Scrub contains aloe and honey, not harsh chemicals, so it won't dry you out!! 
Dead Sea Lifting Mask is a moisturizing and re-mineralizing mask, feels so fabulous and does not dry to a hard finish. Gently exfoliates!

Aloe Rose Toning Mist is the ultimate of all experiences for dry skin.  This soothing toner contains minerals, botanicals and the super humectant Hyaluronic Acid and is essential to restore and pH balance your skin after exfoliation.

Please check each product description for more details.