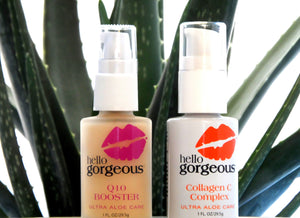 Anti-Oxidant Duo
Fight free-radical damage (the rusting away of our cells) with these great anti-oxidants.  Anti-oxidants slow down aging and these two serums are full of anti-oxidants.
Q10 Booster contains MSM, CoEnzyme Q10 also known as Ubiquinone, Vitamin E, Grape Seed Extract, Vitamin A, Vitamin C, and Hyaluronic Acid.  Chocked full of anti-aging power, this serum goes on under your night cream.
Collagen C Complex contains Vitamin C, Mallus Domestica Fruit Cell Extract, Grape Seed Extract, Sodium PCA, Zinc, Lemon and Grapefruit Peel oil, Sodium Hyaluronate, and Collagen.  You can feel this serum tightening after application all over the face and neck before applying moisturizer.
Along with our amazing 200% Aloe base these ingredients will help you win the war on aging. 
Please get more details on each individual product.