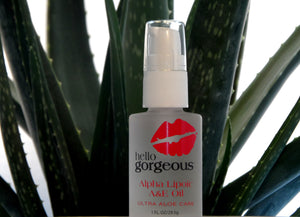 This is our best selling product ever!
Customers rave about how Alpha Lipoic A&E Oil erases wrinkles around their eyes! ALPHA LIPOIC ACID is a very potent anti-oxidant that penetrates into the dermis within 4 hours and studies show a noticeable difference in skin tone and wrinkles.
Dr. Perricone's book " The Wrinkle Cure" sings it's praise, too! Squalane, a natural anti-oxidant obtained from Olive Oil, is the base for this fabulous product which also contains anti-oxidants A and E.
Squalane replenishes our skin's lipid (oil) system and since there are little to no oil glands around the eyes, your THIRSTY SKIN DRINKS IN this ever so LIGHT OIL immediately and WRINKLES VANISH right before your eyes!  Dr. Perricone also explains that one of the main reasons for wrinkle formation is the fact that the natural aging process causes a reduction in the number of oil glands after the age of 30.  Alpha Lipoic A&E Oil can be used anywhere you are experiencing lipid dehydration to ERASE DEHYDRATION WRINKLES!!
********DON'T BE CONFUSED*********
Eye Creams contain humectants that draw water to moisturize causing EYE BAGS. Your delicate eye area needs ALPHA LIPOIC A&E OIL to rehydrate, repair, and smoothe the skin's surface. IT'S AMAZING!!!!!
Primary Benefits:  Smoothes skin under and around eyes.  Makeup appears continuous without cracks or crinkles.

Primary Ingredients:  Antioxidants Squalane, A, E, and Alpha Lipoic Acid combine to fight the first signs of aging that appear around the eyes.

Skin Types:  This fabulous product works for all skin types young and old.

When to use:  Use daily and nightly after cleansing and toning  Use throughout the day when refreshing concealor or makeup.

Features:  A "Natural Lipid Rehydration System" created by our founder and the chemists of Hello Gorgeous Cosmetics.

Benefits:  Our skin's natural lipid, Squalene, keeps it moist, supple, and plump from within.  As we age our ability to manufacture  this valuable nutrient dimenishes and the signs of aging begin to appear as small fissures on the surface of the skin that eventually turn into large cracks (wrinkles) like you see in a dried-up river bed.  By replacing your parched skin with it's cousin, Squalane which comes from olives, your skin's lipid hydration system is restored and your skin's surface is smoothe and soft again.  The anitoxidants repair damaged skin cells and the surface appears youthful as well.

Directions:  Place a droplet under the cheekbone and lashes.  It may also be used sparingly on eyelids at bedtime.

Note:  Alpha Lipoic A&E Oil may be used on dry, scaly patches, cuticles, heels, elbows, and entire face for lipid hydration.

Ingredients Include:  Squalane, Alpha Lipoic Acid, Vitamin A, Vitamin E, Vitamin D, Grapefruit Oil

Packaging:  1 oz. Bottle with pump

 
I have used it before and it gives my skin a pleasant, smooth touch. Moist and soft.
Alpha Lipoic A&E Oil
The best for the eye area.
Excellent
Love this product! Always delivered in a
timely manor.
Surgical scar on my neck
I'm using this oil to help heal my scar from neck surgery in March of this year. I was concerned that maderna cream was not working so I use this daily and before I go to bed. My scar is healing much faster with A&E oil. Thanks.
BEST SKIN PROTECTION
This is the best anti aging product you could ever get! Been using it for years and noticed a difference in the overall health of my skin in just a few weeks. I also used it to keep me from getting stretch marks with my baby. Worked like a charm!