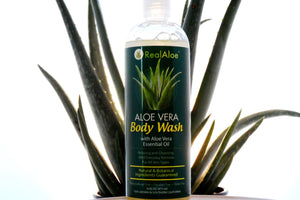 Real Aloe Body Wash With Argan & Aloe Essential Oi
     Calm your senses with Real Aloe Body Wash containing calming and relaxing patchouli essential oil.
    It is also infused with Vitamin E and other natural ingredients to invigorate your shower experience, renew your spirit, and keep you fresh and clean all day.
No Animal Ingredients  -  No Animal Testing  -  No Artificial - Colors - Gluten Free                                     Vegan Certified - Paraben Free 
Ingredients:  Deionized Water, Organic Aloe Vera Gel, Prunus Serotina (wild cherry) Bark Extract, Jojoba Seed Oil, Spinosa Kernel (argan oil), Chamomilla Recutita Flower Extract, Hamamelis Virginiana Leaf Extract, Goldenseal Extract, Calendula Flower Extract, Hops Extract, Equisetum Arvense Extract, Decyl Glucoside, Lauryl Glucoside, Coco-Glucoside, Coco-Glucoside & Glyceryl Oleate, Panthenol (Vitamin B5), Soap Bark Extract, Pure Yucca Schidgera Extract, Caprylyl Glycol, Ethythexyl Glycerine, Undecylenoyl Glycine, Capryloyl Glycine, Citric Acid, Xanthan Gum, Glycerine, Essential Oil, Mannitol, Cellulose, Arcylates Copolymer, Hydroxypropylcellulose, Caprylic/Capric Tryglyceride, Decyl Glucoside, Hydroxypropyl Methylcellulose, Talc, Acrylates Ammonium Methacrylate Copolymer, Mica, Triethyl Citrate, Cl73360 (USRed 30), Cl77891 (US Titanium Dioxide, Polysorbate-20, Tocopheryl Acetate.
16oz. Bottle