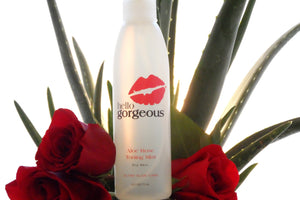 ALOE ROSE TONING MIST
TONE AND BALANCE
Our Aloe Toning Mists are Alcohol-Free and formulated to restore the skin's pH that is interrupted after cleansing.  Most toners simply continue tostrip away moisture and natural lipids that make up the Acid Mantle, the invisible cellophane-like shield that protects our skin from otside intruders.  HGC toner for dry skin hydrates and restores to normalize the skin's surface.  Normalization allows serums and creams to penetrate to subcutaneous layers, humectants to sustain moisture levels, and keeps makeup colors true.
SUPER HYDRATORS
Sodium PCA, a naturallly occuring component of human skin, moisturizes from the inside out.  Hyaluronic Acid which is known as the "water reservoir" holding up to 40,000 times its weight in water is the intercellular "goo" that protects cells.  And last but not least is Glycosaminoglycans found in connective tissue which promote the ability of collagen fibes to retain water and bind moisture throughout the epidermis.  HGC takes these Super Hydrators and combine them with one of nature's perfect mucopolysaccharides, Aloe Vera, another amazing humectant to revitalize and rehydrate dry skin.  Take it to the pool, beach, or even work and rehydrate all day long!! 
PRIMARY BENEFITS:  To restore Acid Mantle pH to 4.5 to 5.5, re-introduce minerals that have been stripped from the skin, rehydray moisture levels, and provide anti-inflammatory relief.
PRIMARY INGREDIENTS:  Aloe Vera, Cabbage Rose Water, Sodium PCA, Hyaluronic Acid, Glycosminoglycans, Geranium Extract, Cucumber Extract, Rosa Canina Fruit Extract, Horsechestnut Seed Extract, Ginseng Root Extract, and Grape Seed Extract.
SKIN TYPES:  Formualted for Dry, Mature, Sensitive, Dehydrated Skin Types
WHEN TO USE:  Use after every cleansing, exfoliation, or shower.  May also be used to hydrate thrugout the day (even over makeup.)
FEATURES:  Super Hydrating Factor:  Humectants are molevules that act as water magnets helping hydrate layers of skin.  Hyaluronic Acic (HA) can hold a thousand times its weight in water.  Glycosaminoglycans (GAG's) surround dermal prteins (elastin and collagen fibers) helping to maintain their pliabilit ndelasticity.  Other amazing humectants in this toner are Panthenol, Sodium PCA, and our famous Aloe Vera concentrated base.
DIRECTIONS:  After cleansing, exfoliating, swimming, or showering simply spray mist 3 times beginning at forehead, then the nose area, and finally to the chin area.  Remember to keep eyes closed while misting.
INGREDIENTS:  Other nutrients in our Toning Mists include our Mineral Complex of Copper (essential for the formation of collagen), Zinc (required for protein synthesis and collagen formation), Magnesium (avital catalyst in enzyme activity), Iron (oxygenates red blood cells for energy production, and Selenium (enhances skins elasticity.)
PACKAGING:  6 oz. bottle with fine spray mister.  
This is a must to add to your routine!
I absolutely LOVE the tone mist! Smells Heavenly— I use it before and after makeup. Also wonderful on a hot day… so refreshing! ♥️
A&E Oil
This product is Fabulous! I've tried everything over the years for under eye wrinkles but this one works. It leaves your eye area moist and you look years younger. Can't live without this product. No one believes how old I am because of this product. Do yourself and your face a favor and order this now. You won't be sorry!
Love, love this toner!!
This is one of my favorite products. It is so refreshing and soothing. Most toners have alcohol and are so drying, but the Hyaluronic and aloe actually plump and hydrate. After cleansing, it quickly quenches that dry feeling and makes my face feel soft again. Love, love it.