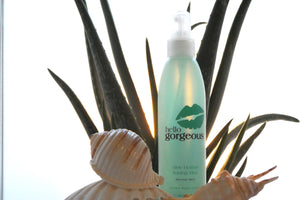 TONE AND BALANCE
Our Aloe Toning Mists are Alcohol-Free and formulated to restore the skin's pH that is interrupted after cleansing. Most toners simply continue to strip away moisture and natural lipids that make up the Acid Mantle, the invisible cellophane-like shield that protects our skin from outside intruders. HGC toners tone skin surface and balance pH to restore the precious acid mantle. This restoration allow serums and creams to penetrate to subcutaneous layers and keeps makeup colors true.
MARINES TO THE RESCUE!
Researchers have confirmed that nutrients derived from Sea Algae can pass through the skin barrier where a transcutaneous penetration of ions take place. Marine Algae macro-elements help to maintain and restore organ equilibrium, delaying if not reversing the aging process. Sea plants, ounce for ounce, are higher in Vitamins and Minerals than land plants. They are natures' richest source of vegetable protein and full spectrum concentrations of Vitamin D, Beta Carotene, Chlorophyll, Enzymes, Amino Acids, Potassium, Calcium, Magnesium, Phosphorous, Iron, and other trace minerals. They leave the skin feeling smooth and soft, and prevent wrinkling and sagging. HGC has formulated a SEA ALGAE TRIO for Normal Skin that helps normal skin maintain its youthfulness and natural glow.
PEPTIDES MIMIC PROTEINS FOUND IN THE SKIN
These various amino acid sequences are the same as those found in collagen. They signal fibroblasts (cells that make collagen) to make more collagen. They stimulate the healing process which triggers rebuilding of the dermal matrix which is a basic requirement for anti-aging.
THAT'S WHY YOU DON'T WANT TO SKIP THIS STEP!
HGC helps you win the war on aging with all these great ingredients on sometimes the most neglected of skin: Normal Skin. 
PRIMARY BENEFITS: To restore Acid Mantle pH to 4.5 to 5.5, re-introduced minerals that chemical-laced water supplies strip away, rehydrate moisture levels, and provide anti-inflammatory relief.
PRIMARY INGREDIENTS: Aloe Vera, Sodium PCA, Hyaluronic Acid, Boric Acid, Extracts of Hypnea Musciformis, Gellidiela Acerosa, and Sargassum Filipendula (Sea Algae Trio), and Peptides.
SKIN TYPES: Formulated for Normal Skin. 
WHEN TO USE: Use after every cleansing , exfoliation, or shower. 
FEATURES: Humectants like Hyaluronic Acid, Panthenol, and Sodium PCA act a water magnets helping hydrate layers of skin. Sea Algae provide skin smoothing and softening as well as anti-inflammatory relief. Aloe Vera and Peptides rebuild and rejuvenate collagen formation 
DIRECTIONS: Mist clean face three times from top to middle to chin. Allow a few seconds for penetration. May be sprayed into cotton pad and smoothed over entire face and neck as well. 
INGREDIENTS: Other nutrients include Extracts of Rosemary, Bergamot, Hops, Myrrh, Pine Cone, and Coneflower (astringent and toning agents), Allantoin (celllular proliferant, anti-wrinkle, and soothing abilities), Sorbitol (humectant and skin softening), Copper, Zinc, Magnesium, Iron, Selenium, Citric Acid, Chlorophyll.