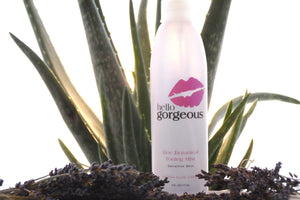 ALOE BOTANICAL TONING MIST

TONE AND BALANCE
Our Aloe Toning Mists are alcohol-free and formulated to restore the skins' pH that is interrupted after cleansing.  Most toners simply continue to strip away moisture and natural lipids that make up the Acid Mantle, the thin cellophane-like shield that protects our skin from outside intruders.  HGC created toners that not only balance the pH, but also re-mineralize and hydrate, which the chlorine and other chemicals in our water system pull from our skin.  
ALCOHOL LADEN ASTRINGENTS AND CHLORINATED WATER DEHYDRATES AND DESTROYS SKIN TONE
Because our NEW toning mists tone skin and balance lipid and moisture levels, serums and creams can better penetrate and perform.
PRIMARY BENEFITS:  To restore Acid Mantle pH to 4.5 to 5.5, re-introduce minerals that have been stripped from the skin, re-hydrate moisture levels and provide anti-inflammatory relief.

PRIMARY INGREDIENTS:  Aloe Vera, Glycerine, Hyaluronic Acid, Glycosaminoglycans, Chamomile, Lavender, Calendula, Olive Leaf Extract and Sodium PCA.

SKIN TYPES:  Formulated for Sensitive Skin.

WHEN TO USE:  Use after every cleansing , exfoliation, or shower.  May also be used to hydrate throughout the day (even over makeup.)

FEATURES:  Super Hydrating Factor:  Humectants are molecules that act as water magnets helping hydrate layers of skin.  Hyaluronic Acid can hold a thousand times it's weight in water.  Glycosaminoglycans surround dermal proteins (elastin and collagen fibers) helping to maintain their pliability and elasticity.  Other amazing humectants in our toners are Glycerine, Panthenol, Sodium PCA, and of course our famous concentrated Aloe Vera Base.

DIRECTIONS:  After cleansing, exfoliating, swimming, or showering simply spray mist 3 times beginning at forehead, then the nose area, and finally to the chin area.  Remember to keep eyes closed.

INGREDIENTS:  Other nutrients in our Toning Mists include our Mineral Complex of Copper (essential for the formation of collagen), Zinc (required for protein synthesis and collagen formation), Magnesium (a vital catalyst in enzyme activity), Iron (oxygenates red blood cells for energy production), and Selenium (enhances skins elasticity.)
Packaging:  6 oz. bottle with fine spray mister.