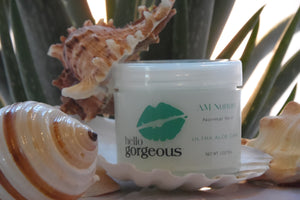 A. M. Nurture
Normal Skin is probably the most neglected of all skin types. So it especially needs nurturing because it will age and wrinkle like all the skin types. HGC has formulated a great Day Moisturizer with key nutrients that target these areas of neglect.
MARINES TO THE RESCUE
Researchers have confirmed that nutrients derived from Sea Algae can pass through the skin barrier where a transcutaneous penetration of ions take place. Marine Algae macro-elements help to maintain and restore organ equilibrium, delaying if not reversing the aging process. Sea Plants, ounce for ounce, are higher in Vitamins and Minerals than Land Plants. They are natures' richest source of vegetable protein and full spectrum concentrations of Vitamin D, Beta Carotene, Chlorophyll, Enzymes, Amino Acids, Potassium, Calcium, Magnesium, Phosphorous, Iron, and other trace minerals. They leave the skin feeling smooth and soft, and prevent wrinkling and sagging.
HGC has formulated a SEA ALGAE TRIO that helps normal skin maintain its youthfulness and natural glow.
PEPTIDES MIMIC PROTEINS FOUND IN THE SKIN      
These various amino acid sequences are the same as those found in collagen. They signal fibroblasts (cells that make collagen) to make more collagen. They stimulate the healing process which triggers rebuilding of the dermal matrix which is a basic requirement for anti-aging.
THAT'S WHY YOU NEED A.M. NURTURE EVERYDAY
PRIMARY BENEFITS: To nourish normal skin with anti-aging, hydrating, smoothing, rejuvenating, and sun protection elements.
PRIMARY INGREDIENTS: Aloe Vera, Squalane (natural moisturizing lipid), Coconut Fatty Esters, Glycerine and  Glycosaminoglycans (Hydration), EFA's (protecting and smoothing), & Sea Algae Trio and Peptides (cellular boosters).
SKIN TYPES: Formulated for Normal Skin.
FEATURES: Humectants that attract moisture: Glycosaminoglycans, Aloe Vera, Glycerine, Panthenol, and Sodium PCA. Skin softening, smoothing, and anti-inflammatory relief from Sea Algae. Rebuilding and Rejuvenating benefits of Aloe Vera and Peptides.
WHEN TO USE: Use every morning after exfoliation and toning.
DIRECTIONS: Place small amounts on forehead, cheeks, and chin. Blend with fingertips in circular movements from center of face toward hairline. 
INGREDIENTS: Other Nutrients include Extracts of Rosemary, Bergamot, Hops, Myrrh, Pine Cone, and Coneflower (astringent and toning agents), Allantoin (cellular proliferant, anti-wrinkle, and soothing abilities), Vitamin C (necessary cellular construction), Lecithin, Titanium Dioxide (natural sunscreen), Vitamin E, Sorbitol (moisturizing), and Chlorophyll (natural color).
PACKAGING: 2 oz Jar
Perfect moisturizer
I have tried many lotions and moisturizers but this one has the best texture. I put it on right after I wash my face in the morning, and it really feels like I'm putting the best ingredients on my skin.