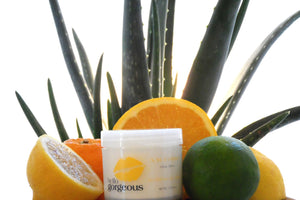 AM CONTROL
Finally a Skin Care Regimen That Oily Skin Will Love
When supplied the right nutrients, Oily Skin, can use creams and things without the fear of breaking out or becoming too shinny. HGC has formulated the PERFECT Skin Care System for oily skin. We begin with Citrus Fruits because they not only have a high Vitamin C content, but also contain Inositol (Vitamin B family) and Vitamin P referred to as Bioflavonoids. Another important nutrient is d Limonene, which has anti-viral, anti-fungal, and anti-bacterial qualities. These Citrus Compounds are necessary for healthy blood vessel walls and proper circulation to correct oily skin conditions. They also have anti-wrinkle and skin smoothing agents. To enhance the Citrus Compounds, we have added Sage, Balm Mint (Balm of Gilead), Golden Seal, and Dutch Rush which have anti-wrinkle, anti-bacterial, and pore-tightening qualities that keep pores clean and encourage healthy skin tissue formation.
PRIMARY BENEFITS: To control Oil Production throughout the day and balance hydration levels.
PRIMARY INGREDIENTS: EFA's, Bioflavonoids, Squalane, Lemon Extract, Grapefruit Seed Extract, Sage, Hypericum, Balm Mint, Golden Seal, and Dutch Rush.
FEATURES: Astringent Herbs that control oil production and tighten pores, Essential Fatty Acid combo for Acid Mantle enhancement, and natural sunscreen ingredients: Zinc Oxide and Titanium Dioxide.
WHEN TO USE: Use every morning after exfoliation with Honey Jojoba Scrub and pH balancing with Aloe Citrus Toning Mist. DIRECTIONS: Place small amounts on forehead, chin, and cheeks and blend into skin using circular strokes from the center of face toward the hairline.
INGREDIENTS: Other ingredients include Glyceryl Stearate, Fatty Esters (Cetyl Alcohol & Stearly Alcohol), Vitamins A, E, & B6, Sodium PCA, Allantoin, Panthenol, Xanthan Gum, Annato (natural color.
PACKAGING: 2 oz. jar.