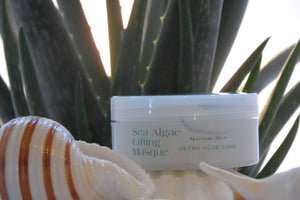 WHY MASK?
Masking has been around for ions.  Clay masks, herbal masks, and occlusive "leaf" masks were used in acient Eqypt as far back a 30 BC.  It was the American Indians that created a leaf mask procdure for healing purposes.,  Their herbal potions produced results that rival modern healing methods.  Mud, Clay, and Silt have thrived because of their ability to absorb toxic debris, exfoliate dead skin, and deliver much needed minerals and other nutrients into the dermis.
 WHY MASK?  BECAUSE THEY WORK!
SEND IN THE MARINES
Researchers have confirmed that nutrients derived from Sea Algae can pass thrugh the skin barrier where a transcutaneous penetration of ions take place.  Marine Algae macro-elements help tomaintain and restore organ equilibrium, delaying if not reversing the aging process.  Sea plants, ounce for ounce, are higher in Vitamins and Minerals than land plants and the richest source of vegetable protein.  HGC has combined Red and Brown Sea Algae from Hawaii, the British Isles, and the Canary Islands with Silt, Zinc Oxide, and Titanium Dioxide to make a silky masks that hydrates, lifts, and tones.
PEPTIDES MIMIC PROTEINS FOUND IN THE SKIN
These varous amino acid sequences are the same as those found in collagen.  They signal fibroblasts (cells that make collagen) to make more collagen. They stimulate the healing process which triggers rebuilding of the dermal matrix which is a basic requirement for anti-aging.  Along with HGC's famous  200% Aloe Vera base (which stimulates collagen production up to 8 times), this combo gives you a fighting chance on winning the war on aging.
PRIMARY BENEFITS:  Masking encourages deep cleansing, pore reduction, tightening, firming , moisturizing, and wrinkle reduction.
PRIMARY INGREDIENTS:  Aloe Vera, Silt, Zinc Oxide, Titanium Dioxide, Peptides, Sea Algae Trio:  Hypnea Musciformis, Hypnea Musciformis & Gellidiela Acerosa; Glycerine and Hyaluronic Acid (moisture magnets); and Squalane (balances electrical charges on cell membranes that provides powerful stimulus to cellular repair).
WHEN TO USE:  Mask 1 to2 times a week and just before special events.
FEATURES:  200% Aloe Vera and Peptides for dermal collagen formation.  Sea Algae rich in Vitamin D, Beta Carotene, Chlorophyll, Enzymes, Amino Acids, Potassium, Calcium, Magnesium, Phoshorous, Iron, and other trace minerals which leave the skin feeling smooth and soft, and prevent wrinkling and sagging.
DIRECTIONS:  Cleanse face of makeup and daily soil.  After rinsing, pH balance with Aloe Herbal Toning Mist.  While face is still damp, apply mask with a small brush or fingertips.  Spread evenly all over face avoiding eye area.  Allow 20 minutes for active organics to their magic.  To rinse, apply a warm wet face towel over entire face and gently wipe mask off with upward and outward strokes.
INGREDIENTS:  Other ingredients include Extracts of Rosemary, Bergamot, Hops, Pine Cone, Coneflower, and Myrrh (astringent and toning); Panthenot, Sorbitol, Xanthum Gum, Acacia, Chlorophyll (color).