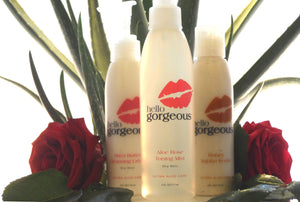 Dry Skin Cleansing Group
Morning cleanser is our fabulous Honey Jojoba Scrub, to gently remove dead skin buildup. The honey soothes and moisturizes skin while the jojoba beads gently dissolve as they exfoliate.  Walnut shell powder never feels harsh, making this scrub work on all skin types.

The evening creamy cleanser is Shea Butter Cleansing Cream which melts away mascara and makeup!  This soothing creamy lotion is water soluble so it cleans and rinses away without leaving a greasy residue. 
And also included in this trio is the wonderful alcohol-free toner Aloe Rose Toning Mist that pH balances and restores the acid mantle.  Your acid mantle protects your skin from outside pathogens environmental damage.  This is an important step a in your cleansing routine since it also rehydrates your face with Hyaluronic, the ultimate moisturizing agent.
For more information please check the descriptions of each individual product.