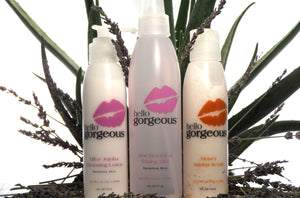 Sensitive/Dry Cleansing Trio
This trio includes a morning scrub to help eliminate dead skin buildup without the use of harsh chemicals.  It contains honey that helps retain moisture as the exfoliating beads gently exfoliate.  
Sensitive, dry skin needs an evening creamy cleanser that delicately removes eye and face makeup.  And of course, it is sulfate-free! 
The ultimate lavender toning mist is fabulous!  Use after all cleansing or masking routines or just whenever you want to refresh and hydrate with soothing herbs and hyaluronic!
Check out each product for details:  Honey Jojoba Scrub
                                                              Olive Jojoba Cleansing Cream
                                                              Aloe Botanical Toning Mist