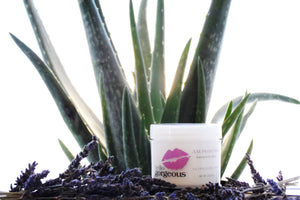 AM PROTECTION
If you have Sensitive Skin you know it. Your skin tends to over-react to everything! That's why it needs AM Protection!! HGC has formulated a light lipid barrier of Squalane, Olive Oil, and Essential Fatty Acids (EFA's) to enhance the performance of your Acid Mantle (the barrier film that protects your skin from invisible invaders and environmental stress.) We've added our Super Moisturizing Duo of Hyaluronic Acid and Glycosaminoglycans to our famous Aloe Vera Base protect moisture levels all day long. But Wait There's More: Six Botanical Extracts to calm and soothe, Peptides for anti-aging, and Titanium Dioxide for natural sunscreen.
PRIMARY BENEFITS: To protect sensitive skin from external irritation and environmental stress while enhancing hydration and lipid moisture.
PRIMARY INGREDIENTS: Aloe Vera, Squalane, Olive Oil, Coconut Fatty Esters, Peptides, Olive Leaf Extract, Comfrey, Chamomile Calendula, and Lavender.
WHEN TO USE: Use every morning after exfoliating and toning.
FEATURES: HGC has included Peptides, molecules that mimic fragments of proteins found in the skin. They signal fibroblasts (cells that make collagen) to make more collagen for lasting anti-aging benefits. Lavender is featured because of it's incredible healing, calming, rejuvenating, soothing, and moisturizing abilities. Our Sensitive Botanical Blend includes Comfrey (healing, soothing, & cell-proliferating), Chamomile (anti-inflammatory, calming, & softening), Calendula (tightening, anti-inflammatory, moisturizing, & pain-relief), Horsetail (tightening, calming, & healing). Also featured is Olive Leaf Extract for its anti-oxidant and anti-bacterial benefits.
DIRECTIONS: Exfoliate gently with Honey Jojoba Scrub and rinse thoroughly. Apply Aloe Botanical Toning Mist to entire face (eyes closed). While still damp, apply moisturizer with upward and outward strokes.
INGREDIENTS: Other nutrients include Glycerine, Butcherbroom, Coltsfoot, Vitamin E, Vitamin A, Vitamin B12, Sodium PCA, Allantoin, Panthenol, Linoleic Acid, Linolenic Acid, and Azulene.
PACKAGING:  2 oz. 
Love this stuff!
The am cream is a must! I have dry skin and sensitive skin. It is hard to find skin care that is gentle and moisturizing enough. This cream keeps my face moisturized all day and feels wonderful on my skin! The lavender smell is a bonus!