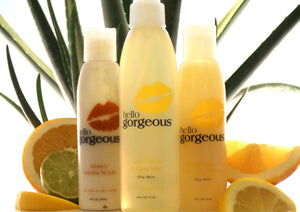 Oily Cleansing Group
Cleansing is essential to prevent breakouts and to control oil production, but over cleansing with harsh products that contain SLS and Alcohol can actually stimulate those problems by stripping your acid mantle away. 
This gentle but effective trio includes your morning scrub with honey instead of chemicals and night time sulfate-free cleanser to remove makeup and buildup from the day.  Finishing out the trio is a  wonderful Citrus Toning Mist that restores your skins pH, to you use every morning and night!

Please check individual products for details:  Honey Jojoba Scrub
                                                                             Aloe Citrus Toning Mist
                                                                             Sugar Citrus Cleansing Wash