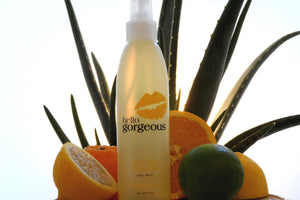 ALOE CITRUS TONING MIST
Oil Controling - Pore Tightening - pH Balancing - Anti-Bacterial - Anti-Wrinkle
--------------DON'T SKIP THIS STEP---------------
Our Aloe Toning Mists are Alcohol-Free and formulated to restore the skin's pH that is interrupted after cleansing.  Most toners simply continue to strip away moisture and natural lipids that make up the Acid Mantle, the invisible cellophane-like shield that protects our skin from outside intruders.  Aloe Citrus Toning Mist restores the precious acid mantle and tones skin's surface.  This restoration allows serums and creams to penetrate to subcutaneous layers and keeps makeup colors true all day long.  This special formula also controlls shine by introducing specially nutrients that slow down oil production and tighten pores.
CITRUS BIOFLAVONOIDS
Citrus Fruit Extracts contain high amounts of Vitamin C which is essential for the formation of new collagen tissue.  They also contain Inositol (Vitamin B Family) and dLimonene, which has anti-viral, anti-fungal, and anti-bacterial qualities.  Bioflavonoids, also known as Vitamin P,  which enhances circulation, increases connective tissue integrity, fights anti-microbial infections, and controls inflammation which is necessary to correct oily skin conditions.  They also have anti-wrinkle and skin smoothing agents, which helps when you are not only experiencing clogged pores, but wrinkles, too!!
PRIMARY BENEFITS:  To restore Acid Mantle pH to 4.5 to 5.5, re-introduce minerals that chemical-laced water supplies strip away, control oil production, tighten pores, and provide anti-inflammatory relief.
PRIMARY INGREDIENTS:  Along with our famous Aloe Vera Base of 200% Aloe Vera, we have added precious Minerals which are the building blocks of life.  They regulate the osmosis of cellular fluids, nerve electrical activity, and most metabolic functions and must be obtained from outside sources as the body does not synthesize them.  HGC has formulated a Mineral Blend of Copper, Zinc, Iron, Magnesium, & Selenium to restore and revive skin functioning.  Lemon Fruit Extract , Grapefruit Seed Extract, and Bioflavonoids are also primary ingredients.
SKIN TYPES:  Formulated for oily, problem skin and oily, sensitive skin.
WHEN TO USE:  Use after every cleansing, exfoliation, or shower.
FEATURES:  Specially selected botanicals like Sage (anti-septic, astringent, calmitive), Golden Seal (anti-septic), Hypericum (purifier, astringent, soothing agent), Balm Mint (anti-septic, stimulant), and Dutch Rush (anti-septic) are featured to kill bacteria in pores, control oil production, and tighten pores.  Grapefruit Seed Extract is a natural antibiotic which fights bacterial, fungal, and viral infections which plagues oily skin. 
DIRECTIONS:  Mist clean face three times from top to middle to chin.  Allow a few seconds for penetration.  May be sprayed into cotton pad and smoothed over entire face and neck as well.
INGREDIENTS:  Other ingredients include Allantoin (soothing, healing, anti-inflammatory), Witch Hazel, Citric Acid, Annatto (natural color).
PACKAGING:  6 oz. bottle with fine mist sprayer.