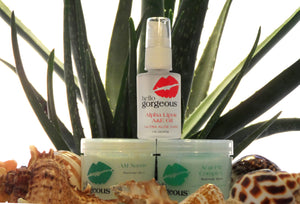 Normal/Combo Essentials
This Normal/Combination skin trio is a must to keep skin hydrated, provide UV protection, and slow down the effects of aging. 

AM Nurture is a light daytime cream made with our concentrated Aloe Vera base, Coconut Fatty esters, and Squalane.  Our fabulous Sea Algae Trio promotes collagen production and reduces free radical damage, while Peptides stimulate the healing process and rebuilding of the dermal matrix.  Titanium Dioxide provides protection from the sun's harmful rays.
ACAI PM Complex is a wonderful, soothing night cream that doesn't leave the skin feeling greasy or oily.  Penetrates easily bringing collagen building aloe, rejuvenating botanicals, nutrient dense sea algae, protein protecting glycosaminoglycans, and super anti-oxidants to squelch free radical damage.
Alpha Lipoic A&E Oil is made with a Squalane base which is the same oil produces by the skin to keep it supple and moist.  Unfortunately as we age, Squalane production diminishes and must be restored from the outside in.  Along with Vitamins A, E, and D and the super anti-oxidant, Alpha Lipoic Acid, this light lipid penetrates quickly around the eyes and mouth to reduce wrinkles and keep the skin supple and smooth.