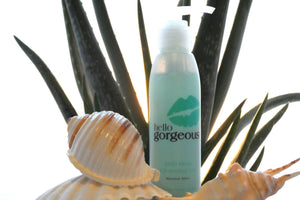 NORTH ATLANTIC SEA ALGAE
Irish Moss is gathered off the shores of the British Isles in the North Atlantic.  As it dries in the sun, it becomes a yellowis translucent color and shipped all over the world to be used in the manufacture of cosmetics and health supplies.  It is a great emulsifier and combines with our famous Aloe Vera base and Coconut cleansers to form a fabulous cleansing gel.  Your skin feels squeeky clean without feeling dry.
SULFATE FREE
HGC cleansers contain no SLS (Sodium Laurel Sulfate) or any other toxic cleansing chemicals.  This assures you of a fresh clean feel without harmful chemical residue which accelerates the aging process.
PRIMARY BENEFITS:  To provide safe and effective anti-bacterial cleansing for the normal face.
PRIMARY INGREDIENTS:  Aloe Vera, Irish Moss, Sucrose Cocoate, Grape Seed Extract, Sea Algae Trio:  Hypnea Musciformis, Gellidiela Acerosa, & Sargassum Filipendula, Panthenol, and Glycerine.
SKIN TYPES:  Formulated for Normal Skin.
FEATURES:  Irish Moss along with other sea algae extracts from Hawaii, the North Atlantic and South Atlantic Oceans combine with Aloe Vera and Coconut esters to produce a mild cleanser leaving skin feeling smooth and soft.
WHEN TO USE:  Use nightly to cleanse makeup and soil from daily activities.
DIRECTIONS:  Place a nickel-sized amount onto a wet washcloth and using circular strokes clean face from the center out to the hairline.  To remove eye makeup, place a small dollup on the ring finger and place on eyelid area and gently massage around eye in circular motions.  Pat clean with a warm, wet washcloth.
INGREDIENTS:  Other nutrients include Extracts of Rosemary, Bergamot, Hops, Myrrh, Pine Cone, and Coneflower (astringent and toning qualities), Sorbitol (humectant and skin softener), and Chlorophyll (color). .