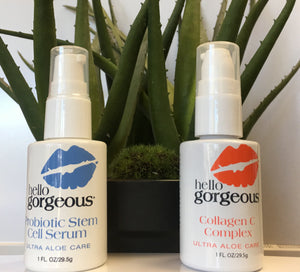 PROBIOTIC STEM CELL SERUM & COLLAGEN C COMPLEX
 I love the new discoveries of plant stem cells developed for the skin care industry. Stem cells are simply 'new' cells (undifferentiated cells that form into specific cells like brain cells, bone cells, or skin cells). Here are some of my favorite anti-aging serums with stem cells to keep your skin looking younger longer. As one ages, the number of skin stem cells decreases and their ability to repair the skin becomes less efficient. So, phyto stem cells to the rescue!
ARGAN STEM CELLS: The Argan Tree belongs to the oldest known tree species in the world which was around when dinosaurs roamed the earth. These trees are resistant to death by going dormant during droughts, until humidity levels rise when it suddenly comes back to life. ARGAN STEM CELLS vitalize human dermal stem cells which is responsible for collagen and elastin production. Scientists have learned how to delay the depletion of human dermal stem cells by using Argan plant stem cells!
SWISS APPLE STEM CELLS: The Uttwiler Spatlauder apple is rich in phytonutrients, proteins, and long-living cells. Historically famous back to the 18th century for its long-lasting storage without shriveling or decaying kept people alive during famines. The SWISS APPLE longevity factor enticed cosmetic scientists to research the effects of its stem cells on human cells. Test results were amazing: 100% of the test subjects showed a significant and visible decrease in wrinkle depth. In vitro tests showed DNA repair, protection from oxidative stress, and a delay in cellular death.
I love to use Probiotic Stem Cell Complex during the day under my AM moisturizer and the Collagen C Complex at night under my PM cream!
For more complete product details, please check out each individual product in the Anti-Aging Serums section.