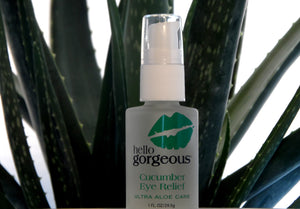 GOT BAGS????? GET RELIEF! ! ! ! ! ! 
CUCUMBERS naturally cause organic tissue tocontract.  That's why estheticians and spa specialists place cooling, soothing cucumbers on the eyes of their clients while they relax with a facial mask.  Most people don't have time to go to the spa or lie down on the sofa with cucumbers on their eyes to relieve swollen eyes.  So Hello Gorgeous Cosmetics put Cucumber and other botanicals in a bottle to do that job while you eat breakfast or make your bed.  In just 15 minutes you can rinse and continue your makeup routine.
NEW PEPTIDE ATTACKS EDEMA!   Eyeseryl, a new tetrapeptide, dramatically reduces edema around the eyes by improving blood circulation and lymphatic flow. It also reduces dark circles!  Banana leaf, ginseng, marshmallow root, fennel, and bladderwrack also help correct fluid retention,  A whopping 75% of the volunteers saw improvement in only 15 days.

MORE SOOTHING BOTANICALS:  Chamomile is also an astrigent herb which means it shrinks skin tissue, too, and teams up with cucumber to illiminate eye bags.  Chamomile also has anti-inflammatory and anti-spasmodic properties.  Eyebright has been used for centuries for eye related ailments.  Other botanicals included in this great serum are Calendula, Coltsfoot, and Elder Flower to soothe and shrink PUFFY EYELIDS AND EYE BAGS!!!!
                                                                                                                                              YOU DON'T NEED A REFRIGERATOR FULL OF CUCUMBERS!   
                                                                          YOU NEED CUCUMBER EYE RELIEF
PRIMARY BENEFIT:  To shrink eye bags and reduce swollen eye lids and facial areas and to lighten under eye darkness.


PRIMARY INGREDIENTS: Aloe Barbadensis Leaf Extract, Cucumber, Acetyl Tetrapeptide-5, Chamomile, Eyebright


SKIN TYPES:  All skin types may use this product.

WHEN TO USE:  Use anytime.  For best results, use in the morning after first arising.  

DIRECTIONS:  Keep Cucumber Eye Relief in your refrigerator. Generously apply gel on swollen areas before cleansing and makeup.  Leave on 15 minutes and rinse. Apply Alpha Lipoic Eye A and E Oil, moisurizer, and makeup. 


NOTE:  Be careful when placing on eyelids, use sparingly.  Does tend to tingle.  Since the nature of this product can be drying, we reccommend that you also use Alpha Lipoic A&E Oil after this treatment.  Do not use eye creams after this treatment because they contain humectants that will pull water to that area again and cause swelling again.

 INGREDIENTS INCLUDE:  Aloe Barbadensis Leaf Extract, Organic Aloe Barbadensis Juice, Cucumber Fruit Extract, Chamomile Flower Extract, Eyebright Extract, Acetyl Tetrapeptide-5,  Marshmallow Root Extract, Fennel Seed Extract, Meadowsweet Extract, Cornflower Extract, Banana Leaf Extract, Bladderwrack Extract, Coltsfoot Extract, Ginseng Root Extract, Calendula Flower Extract, White Lily Extract, Elder Flower Extract, and Grape Seed Extract, Chondrus Crispus, Phenoxyethanol, Caprylyl Glycol, Sorbic Acid.


PACKAGING: 1oz. Bottle