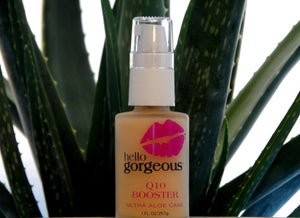 CoQ10 BOOSTER - AGE REVERSING SERUM
PHOTO-AGING is accumulated damage to skin from exposure to UV light. You would have to live in an underground cave for this not to effect you. UV DAMAGE happens to everyone. UV LIGHT EXPOSURE depletes several antioxidants including Vitamin E, Vitamin C, and CoQ10.
COQ10 COMES TO THE RESCUE because it is a fat-soluble antioxidant (cellular membranes are composed mostly of fat) and easily penetrates into the cell. Research indicates that CoQ10 significantly increases Hyaluronic Acid in artificially aged human skin cells. Hyaluronic Acid regulates hydration and promotes collagen synthesis. In petri-dish experiments, human skin cultures treated with CoQ10 were protected from DNA damage from UV light exposure. European studies reveal topical treatments with CoQ10 repair photo-damaged skin.
MSM contains 34% sulfur. Four amino acids (methionine, cysteine, cystine,and taurine) depend heavily on sulfur which are necessary for cellular repair. MSM contributes to skin softness and pliability, and encourages repair of damaged skin by stimulating production of collagen. Along with this fabulous nutrient, Linolenic Acid (an essential fatty acid) was added because it helps block the formation of inflammatory hormonal mediators that are produced during UV exposure.
COPPER, SELENIUM, GRAPESEED EXTRACT, AND VITAMINS A & E make CoQ10 Booster a no-brainer, must have WRINKLE SOLUTION.
• PRIMARY BENEFITS: To repair and reverse the visible and invisible signs of sun damage to the skin.
• PRIMARY INGREDIENTS: Aloe Barbadensis Leaf Extract, Hyaluronic Acid, CoQ10, Grapeseed Seed Extract , MSM, Essential Fatty Acids.
• SKIN TYPES: This oil-free serum works on all skin types.
• WHEN TO USE: Use every morning and every evening under moisturizers and night creams.
• DIRECTIONS: Apply one to two droplets on cleaned and toned skin. This serum can be mixed with other serums like Collagen C Complex in the palm of the hand and then applied in circular upward strokes all over the face.
• INGREDIENTS INCLUDE: Aloe Barbadensis Leaf Extract, Glycerin, Sucrose Cocoate, Carrageenan, Grape Seed Extract, Coenzyme Q10, Hyaluronic Acid, Linolenic and Linoleic Acid, Vitamin E, MSM, Allantoin, Vitamin A, Vitamin C, Copper, Selenium, Sodium Hydroxymethylglycinate.
• PACKAGING: 1 oz. Bottle
Best serum!
Makes such a difference! Brightens and adds such plumpness to my face and helps decrease my fine lines and wrinkles. It is a must in my skin care regimen.