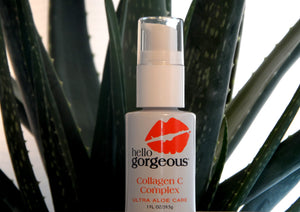 IT CAN'T GET ANY BETTER THAN THIS
COLLAGEN C COMPLEX Is probably the most effective product we make. It is AMAZING! Let me explain. Collagen is a dermal protein. It makes up one third of your total body protein and 70% of your connective tissue. In recent years research concludes that the loss of soluble collagen in skin tissues can be arrested and compensated by applying soluble collagen externally. Natural collagen serums do stimulate formation of collagen fibers and leads to regeneration of the skin.
SOLUBLE MARINE COLLAGEN with the addition of 10% Sodium Ascorbyl Phosphate (a stable form of Vitamin C) which is essential in the prevention of premature aging since it is necessary for the growth and maintenance of connective tissue combine to increase skin density and integrity. 
HYALURONIC ACID is the natural polymer that hold cells together and lubricates joints because it holds 40,000 times its weight in water. Without it soluble collagen becomes insoluble, unable to bend, flex, and support. HA, as it is affectionately known, is another key that unlocks the door to youthful skin.
SWISS APPLE FRUIT CELL EXTRACT, the new kid on the block stimulates cellular regeneration at the stem cell level.  Swiss scientist discovered an ancient apple with a shelf life long past it's more tasty cousins and decided to see if it's stem cells would encourage skin stem cells to differentiate and live longer and the rest is history.  What does this mean for you?  Younger skin cells that live longer ie. younger skin. 

SUBLISKIN is the commercial name for Sinorhizobium Meliloti Ferment a plant sugar derivative.  This new extract has proven invaluable in clinical studies for reducing wrinkle depth up to 60%, decreasing wrinkle density up to 99%, and tightening skin up to 68%.  WOW!
ALL IN ALL this is a must have serum that easily penetrates skin and works wonders!!!!
PRIMARY BENEFITS: To stimulate fibroblast production in connective tissue and maintain elastin flexibility.

FEATURES: Swiss Apple Stem Cell therapy and Subliskin (plant sugar ferment) which in clinical studies has reduced wrinkle depth up to 60%, reduced wrinkle up to 58% to 99%, and tightened skin up to 68%.

PRIMARY INGREDIENTS: Our famous Aloe Vera Base delivers Sodium Ascorbyl Phosphate which changes to Vitamin C after entering skin tissue (which doesn't diminish antioxidant activity due to extended shelf life), Swiss Apple Fruit Cell Extract,  Soluble Marine Collagen,  Subliskin (Sinorhizobium Meliloti Ferment), Hyaluronic Acid, and Amino Acids to revive dermal connective tissue.

SKIN TYPES: This fabulous serum works great on all skin types.

WHEN TO USE: Our light-weight serum can be used after cleansing and toning every AM and PM before moisturizers.  If you are using PhytoTox and the Wrinkle Eraser during the day, then just use nightly.

DIRECTIONS: Place a dollup on forehead, cheeks, and chin and smooth in using circular strokes.

INGREDIENTS:  Aloe Barbadensis Leaf Juice, Aloe Barbadensis Leaf Extract, Sodium Ascorbyl Phosphate, Glycerine, Mallus Domestica Fruit Cell Culture Extract, Hyaluronic Acid, Soluble Collagen, Grape Seed Extract, Sinorhizobium Meliloti Ferment filtrate, Carrageenan, Lecithin, L-Carnosine, Tyrosine, Zinc Gluconate, Sodium PCA, Xantham Gum, Cetyl Hydroxyethylcellulose, Bergamot Fruit Oil, Lemon Peel Oil, Grapefruit Peel Oil, Sodium Hydroxymethylglycinate, Citric Acid.

PACKAGING: 1 oz. Bottle
Try this for sure!
Been using this nightly for several months and noticed a real difference in the elasticity of my skin. This is a real plus for mature skin. I noticed a difference in the brightness and skin discolorations are less noticeable. After cleansing, I use this on my face and neck, before moisturizer. Definitely give this product a try.